"Your participation in our one-of-a-kind project in the Indian landscape of offices in KPMG did make a difference and is deeply appreciated.
As we have commenced our operations from this office, it clearly brings us to a point of differentiation and allows us the right platform to elevate our play in the space we operate in.
Needless to say, a project of this nature necessitates collaboration, flexibility and adaptbility of the highest order and professionalism to be able to deliver the quality of results the very objective of this mandate demanded.
It is with no doubt and gap that there has been complete alignment to our cause on your part. We have taken cognizance of your proactive assistance and ability to go above and beyond. It is indeed appreciated."
L & T Valdel
"We sincerely appreciate the eagerness with which the job was taken up and the degree of ownership shown by the team. This spirit is really wonderful to see and will always be the key to success.
Thank you for creating a wonderful office which has been appreciated by one and all considering the extreme short duration in which the work was completed."
mPortal
"I'm pleased to write to you to say that the interior work done by you for our new office is outstanding. The interiors are good-looking, comfortable to the users and design-scientific.
You have considered all factors to allow good ventilation and natural light. Great job, keep it up , and thanks for bringing a real corporate look to our office."
Bally
"Design Transit was instrumental in incorporating some unique design features to specifically address our unique ambience and functional needs of a Gaming environment. Their innovative concepts not only won the appreciation of our internal customers, but some of these were also incorporated by our parent office in the US.
Thanks to Ms.Bina and her dedicated team, they worked both proficiently and tirelessly to meet our deadlines."
SAP LABS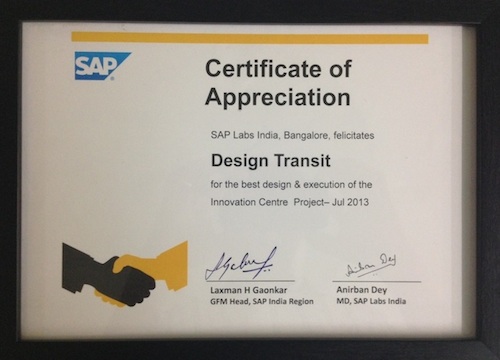 Clients
Apigee
Acclaris
Bally
CareerNet
Delphi
Goodrich
Honeywell
Indegene
Infineon
Iron Mountain
Jones Lang LaSalle
Kalyani Developers
Kalyani Motors
L & T Valdel
Maruti Suzuki
Micro Labs
Oracle
Sattva
Technotree
Texas Instruments
SAP Labs
UTC Aerospace
Diabetacare
Hirepro
© 2014 D E S I G N T R A N S I T